Building Brighter Futures:
Help us Build a School!
We have seen the need for quality education in Kenya, and we're responding.  Help us empower children through education and God's love.
In 2020 we purchased land, broke ground, and built 4 classrooms, office space, bathrooms, volunteer housing, an underground water storage tank and a biodigestor. 
Our goal is to complete Phase 2 in 2021:
Build 4 additional classrooms
Build an additional block of bathrooms
Purchase desks, desks, chairs, tables, and other classroom furnishings
Finish roads and sidewalks inside school compound
Build kitchen for cooking school meals
Build teacher housing
Total cost for Phase 2= $178,000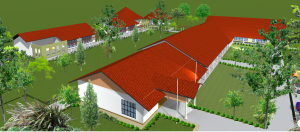 Proposed Plan:
*Purchase land in Nanyuki, Kenya
*Build a K-8 school on the land; move all existing programs there
*Increase the number of children we serve by 150+
*Provide quality education and safe boarding facility for children in need
*Train Kenyan teachers in literacy and hands-on learning instruction
*Construct housing for hosting mentor teachers from the U.S.
Create a Facebook fundraiser to help:
Login to your Facebook account.
On mobile, Click the Fundraisers button, and then click Create a Fundraiser.  On desktop, click CREATE at the top of your screen and then click Fundraiser.
FB will ask: Who are you raising money for?  Click Nonprofit
Type Grain of Rice Project into the search bar and select our logo.
Add one of our photos and a description about our school fundraiser.
Set a goal amount and an end date.