Grain of Rice Academy is a primary (elementary school) that currently serves 70 students ranging in age from preschool to grade 8. Just under half of our students were formerly part of Grain of Rice Kids Program, which was based in Kibera for 7 years. These students transitioned to our new location and now board on site and return home on school breaks. Grain of Rice Academy seeks to provide high-quality, literacy based education that is hands-on and infused with the arts. We are integrating these principles in conjunction with the new Competency Based Curriculum that is being implemented in Kenya. On a typical week, you can find students participating in STEM activities, playing the recorder, creating paintings and sculptures, reading in our classroom libraries, and participating in guided reading groups. Our goal is help children become problem solvers and leaders in their communities.
Our Purpose
Quality education is hard to come by in Kenya unless you have a lot of money. That's why we built and opened Grain of Rice Academy that provides equality for all students (poor or rich) and a quality, hands-on education. Our team has worked with educators, professors, and experts to develop a literacy based curriculum infused with STEM and the arts.
Our Vision
We strive to be a school that nurtures creative, critical thinkers and provides a high quality, cross-curricular education in an equitable environment for all students. No matter their background, we will support all students within a Christian context to establish them as future leaders and global citizens.
Our Core Values
Unity: Cultivate a Christ-like culture where everyone, all tribes, all races, all ages belong.
Responsibility: Come prepared and organized to do your best, to take care of our school and to take ownership of your actions
Trust: Be honest in your words and actions and do the right thing, even when it is difficult.
BECOME A CHILD ADVOCATE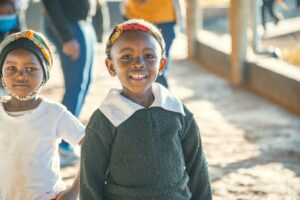 Would you like to make a life changing impact upon a child in Kenya? Grain of Rice Project is supported by generous sponsors like you.  
Your commitment promotes stable relationships, develops trust and enables the child to flourish in their learning environment. Your monthly donation provides for the child's education, uniforms, books, materials, and meals as well as reveals God's love and hope to them. We encourage advocates to commit to a one year minimum and if possible, continue with the student throughout their years at Grain of Rice Academy.
There are 2 advocate options:
Cover half of a child's education and support as a Dual Advocate or fully sponsor a child as a Sole Advocate.
$38 / month for a dual advocate
$76 / month for a sole advocate
Interested in becoming a a Child Advocate through Grain of Rice Project?