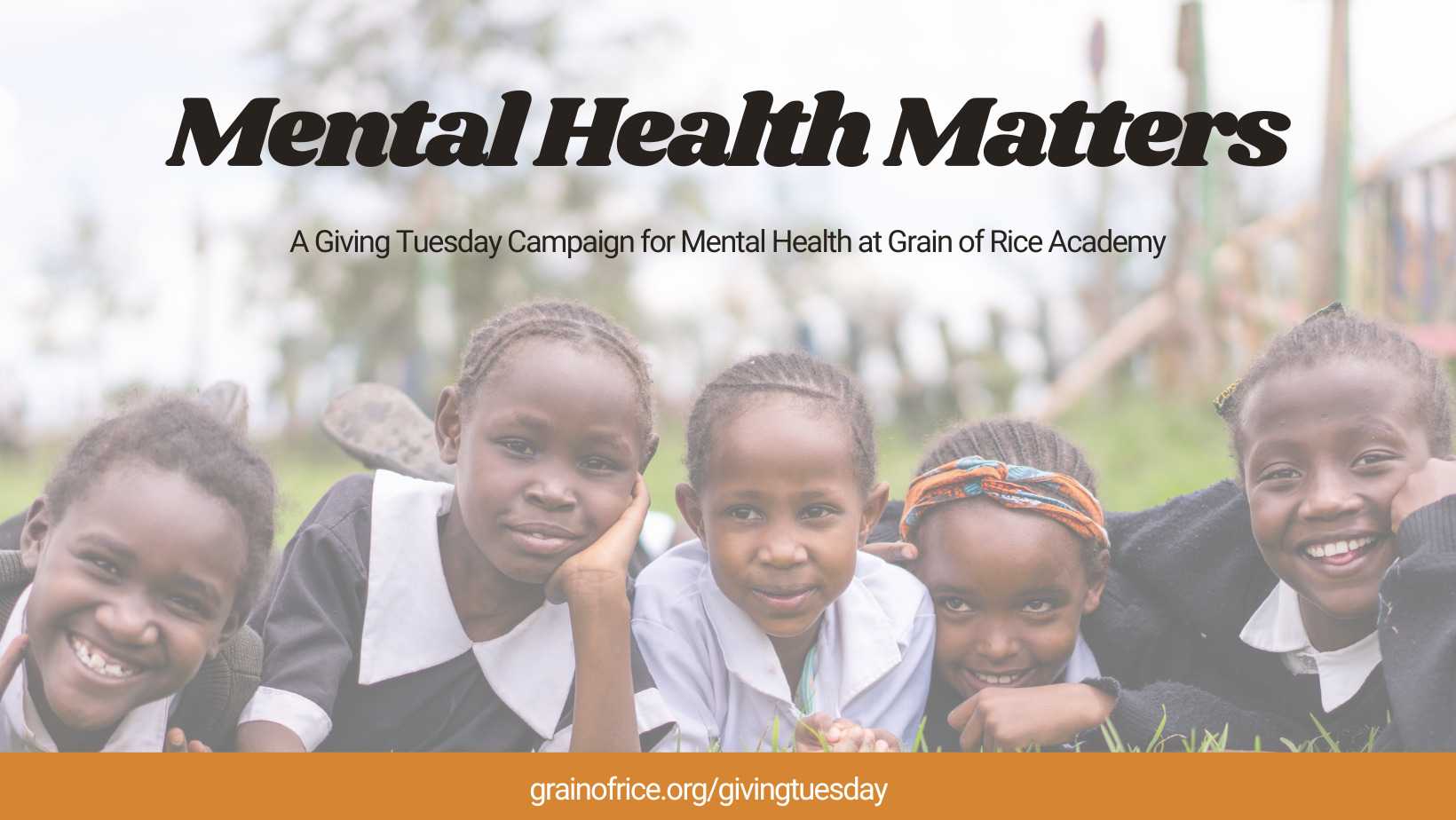 Mental Health Matters: A Giving Tuesday Campaign
This Giving Tuesday, we invite you to join us in sowing the seeds of hope by supporting our mental health initiatives, grounded in the compassion and love of Jesus. At Grain of Rice Academy, we understand the profound impact that mental health and emotional well-being have on our students' lives. That's why we are launching a special Giving Tuesday campaign dedicated to our Counseling Program.
Our Mission
Grain of Rice Academy is committed to providing a safe and nurturing environment for our students, where they can not only excel academically but also flourish mentally and emotionally, guided by the teachings of Jesus. With your support, we can continue to build a haven of mental health and emotional growth within our school community.
Your Impact
All funds collected on Giving Tuesday will go towards sustaining our Counseling Program.
Here's how your contribution will help:
Full-Time Counselor on Staff: Your Support will provide essential funding for our full-time counselor who plays a vital role in offering continuous guidance and unwavering support to our students.
Weekly Family Groups: We run family groups that focus on the principles of TBRI (Trust-Based Relational Intervention), promoting trust, attachment, and emotional growth within families. 
Weekend Counseling Groups: Our students need a safe space to connect and open up about their weeks. These weekend counseling groups provide just that, allowing them to build bonds and learn valuable life skills.
One-on-One Counseling Sessions: Your donation will help us to continue to provide one-on-one counseling sessions during weekdays, enabling students to overcome trauma and challenges. 
Team Building and Project Sessions: Positive communication and teamwork skills are vital for a successful future. Your support will help us to continue organizing team-building and project sessions, fostering collaboration and personal development for students. 
By supporting Grain of Rice Academy's Counseling Program, you are contributing to the growth of confident, emotionally resilient, and empathetic individuals who will shape a brighter future for us all.
How You Can Contribute
Visit our Giving Tuesday donation page and make a one-time donation.
Share our campaign with your friends, family, and social networks to help us reach more people.
Get involved in our mission as a volunteer or advocate. Contact us for more details.
Thank you for being a vital part of our mission to empower minds and cultivate hope. Together, we can make a meaningful difference in the lives of our students and their families. Join us this Giving Tuesday because Mental Health Matters!
Together, we can plant the seeds of hope and resilience.