In order to truly empower the locals in Kenya and to best understand the needs of the community, our goal is for all of our programs in Kenya to be led by Kenyans.  The folks on our team do an amazing job of pouring out passion into the people we serve in each program.
Meet Our Kenyan Team:
Naomi Madaga, Administrative Director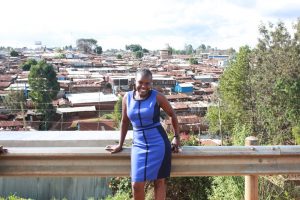 Naomi wears a lot of hats at Grain of Rice Project.  She manages our artisan team and oversees the production of all of our fair trade pieces.  She helps track inventory, ships products, and keeps us organized on a daily basis.  Naomi has a servant's heart and works very hard to make all our programs run successfully behind the scenes.  She also helps co-teach our Girls Empowerment Program.
Collins Ambani, GORP Kids Director
Violet Ambani, GORP Kids Teacher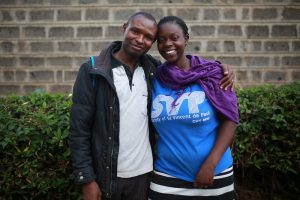 Collins is one of the most joyful people you'll ever meet, and he uses his energy and love for children to lead our kids program.  Collins plans weekly lessons centered around creative, critical thinking activities that are taught from a Biblical perspective to the children from Kibera Slum.  Collins is also our parent coordinator to keep parent volunteers engaged in our programs at GORP.   Additionally, Collins helps lead devotions with our artisan team and leads Saturday morning devotions with our footballers.  Violet is his sweet, caring wife who also assists with teaching in our kids program.  She is a great helper with a humble, patient heart and the co-teacher for our Girls Empowerment Program.
Meet Our U.S. Based Team:
Katie Funk, Director of Strategic Partnerships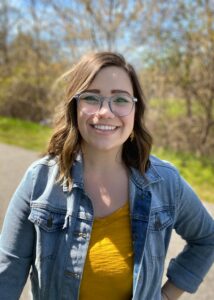 Katie started serving with Grain of Rice Project as a board member in early 2020. She presented the initial vision of hosting a 5k walk/run fundraising event for our Brighter Futures Campaign, which we've successfully hosted three years now thanks to generous donors and supporters. Katie started working with GORP in early 2021 in the area of marketing and wholesaler management. She strives to grow our partnerships, expand our child advocate program, develop our social media content and share the stories and mission of Grain of Rice Project. Katie is an ordained minister in the Church of the Nazarene and previously served as a youth pastor.
Rose Roberts, Inventory and Sales Manager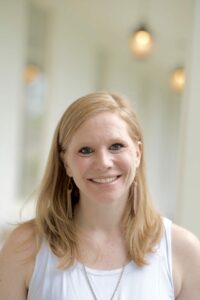 Rose is our stateside inventory and sales manager. Originally from Pennsylvania, Rose and her family now live in Brookville, Indiana. Rose has a background in education and helped to develop our mid-level English curriculum used at Grain of Rice Academy. She visited Kenya in 2011 while in graduate school and has a passion for helping those around her thrive in their day to day lives.