Cultivating Beauty from the Dirt
It may be November, but this week, I've still been uprooting carrots and vegetables from my garden.  If you live in Northwest Indiana, you know that this is nothing short of a miracle.  Fall has pushed itself in, and as much as I wish I could be one of those people who walk around proclaiming how much they love "sweater weather," I am not.  I am just always cold!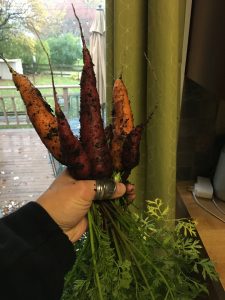 But back to those carrots!  As a kid, I did not enjoy gardening at all, and my childhood memories include being woken at early hours of summer vacation to go out and pick fruit from the garden.  But now as an adult, I LOVE it!  There is something so satisfying about realizing the tiny seeds that were almost haphazardly pushed into the ground have now resulted in something AMAZINGLY wonderful to eat.
As I uprooted the carrots covered in dirt, I couldn't help thinking about how these little vegetables are such a great metaphor for all that's happening at Grain of Rice Project in Kenya.  Our workshop is just like those carrots, surrounded by the dirt of Kibera.  The environment smells, the trash is everywhere, and any attempts to clean your shoes results in them becoming dirty shortly afterwards.  And yet, despite the sewage and overwhelming scene of trash piling up, there is much fruit and much beauty.
Even with all the mess of the slums, every weekday, mamas and papas are hand-stitching, hand-beading, hand-carving each individual piece that we sell.  Each scrap of paper is becoming a bead.  Even the remnants of fabric, which many would throw in the trash without much thought, are being collected from local tailors and transformed into trivets, bowls, coasters, stuffed animals, and more.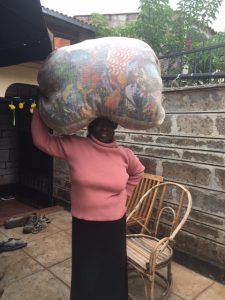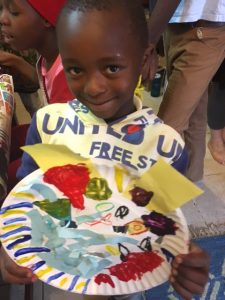 And then there are the children, whose socks are full of holes from all the handwashing, whose once new shoes are full of dirt from the trek to school, and whose uniforms often reveal missing buttons and small tears.  And yet, these same children can be heard proclaiming a joyful noise to the Lord; their eyes are full of sparkle when there are new markers to draw with, new opportunities to be creative.
And the footballers, whose cleats fall apart in only a few months from the trashy environment where they play, come with dedicated hearts, and joy for being part of a team.  On Saturdays when they gather at the workshop, their excitement for singing to the Lord, often becomes so loud thatit spills over our gates.
From the dirt, from the hard circumstances, there is beauty.  We must only have the courage to find it, embrace it, and cultivate it in our lives and others.
The joy of the Lord is our strength.  Nehemiah 8:10