I can't believe there's only 12 days until Christmas.  Perhaps like many of you, I find this time of year a little overwhelming.  What I want in my heart is to be reflecting on the Advent season reminders of hope, joy, love, and peace, but instead everything just feels like a lot.   The lines at Target are multiple people deep, and I have no idea what to buy for the family white elephant exchange (I really stress about finding the perfect gift).  Can I just be honest with you and say that I don't always feel very holly and jolly right now?  It's not that I want to be a Scrooge.  It's just that amongst all the hustle and bustle, the lights, and the extravagant amount of gifts underneath our trees,
I start to wonder if we (yes, me included) are drowning out the true meaning of Christmas.
As many of us gather in warm homes feasting on food over the holidays, many of the people I meet in Kenya are going without.  They can't send their kids to school, put food on the table, or afford Christmas gifts. Our Kenyan director, Naomi, reminded me today, that while Americans are stocking up presents, Kenyans are getting their hair done, buying a new dress, and getting ready to eat Christmas chicken.  This is the same Naomi who told me that since joining the Grain of Rice Project staff 3 years ago, she hasn't gone to bed hungry the way she had many times before.
I suppose we also fix our hair, buy new clothes, and have a feast, but the difference is that for many Kenyans, they are ONLY doing these things at Christmas….
As in, this might be the only time the whole year that they are eating chicken or getting a new outfit.
Is that sobering to you?  Because as I'm trying to stuff more in my overfilled closet, I'm realizing that I have so much.  And I constantly struggle trying to balance the American life I am in right now, and the Kenyan life I that I experience the other part of the year.  And I realize the fact that my fridge is missing milk, eggs, and half and half because I've haven't mustered up the energy to drag a 5 month old baby out into the snow to the store this week, is really not a big deal.  Because this is a 1st world problem that isn't even really a problem, and most people in Kenya do not even have a fridge.
And I wonder, What would Jesus do in our American culture of materialism?
Friends, it's not too late.  We've got 12 days to posture our hearts differently, to slow down, to reflect on Jesus.  What if we think beyond ourselves and look for purposeful ways to reach out to our neighbors around us and our friends across the globe?  I love that my local library had strung a clothesline full of scarves, mittens, and coats outside for anyone who  needed something to stay warm.  It was practical and SIMPLE.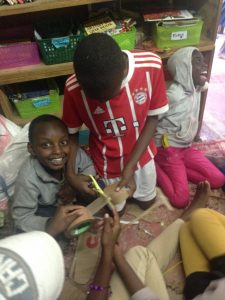 I hate asking for things.  Perhaps it's part of that independent, American thinking.  I also hate selling things (flashback to memories of Girl Scout cookie selling).  And I think we've already tapped so many of you who've already given this year as a regular donor or on Giving Tuesday.  But I also know that I get so many people who want to tangibly give something to the people we work with in Kenya, especially during the Christmas season.  If that's you and you want to know a SIMPLE way to help, here's a link to our Amazon wishlist of items we're looking to collect for our GORP Kids Program.  Simply put, we will use this stuff.  It's books and materials for curriculum we're planning for 2019 for kids who really need hands-on learning opportunities, for kids who don't have any books in their houses.  I'm leaving for Kenya soon, so if you want to give anything from the list, do it this week.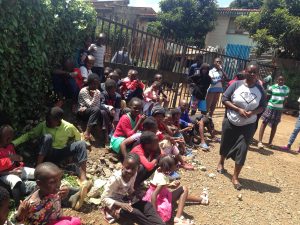 And as we count down the last 12 days until Christmas, I want you to know that I'm right there with you, struggling for balance and yearning for the SIMPLICITY.  I encourage you to look around you for small ways to slow down, to reflect on Jesus' love and the simplicity of his birth and find SIMPLE ways to help people around you.
Happy Advent friends.