I've started calling our van the Blessing Mobile. We've picked up quite a few people standing on the side of the road who always need a ride to somewhere. Public transportation is very limited in this rural area of Daiga, so our van is a bit of a novelty, or rather a blessing. We've picked women and children coming home from church in the rain, a drunk man who insisted we must pay him for his help navigating the treacherous muddy roads, a government worker returning from work, and a chef looking for work. The story is always the same—someone flags us down; we tell them our van has no seats, and he/she piles in the back anyway. And typically the chatting begins. I only catch bits and pieces since everything is in Swahili, but Edwin fills me in later. We learn about how a famous bank robber used to own all the property along one of the roads before he sold it to an Indian man who started a large farm. We learn that they've been trying to pave the road for 7 years, to which we realize, it will probably never be completed.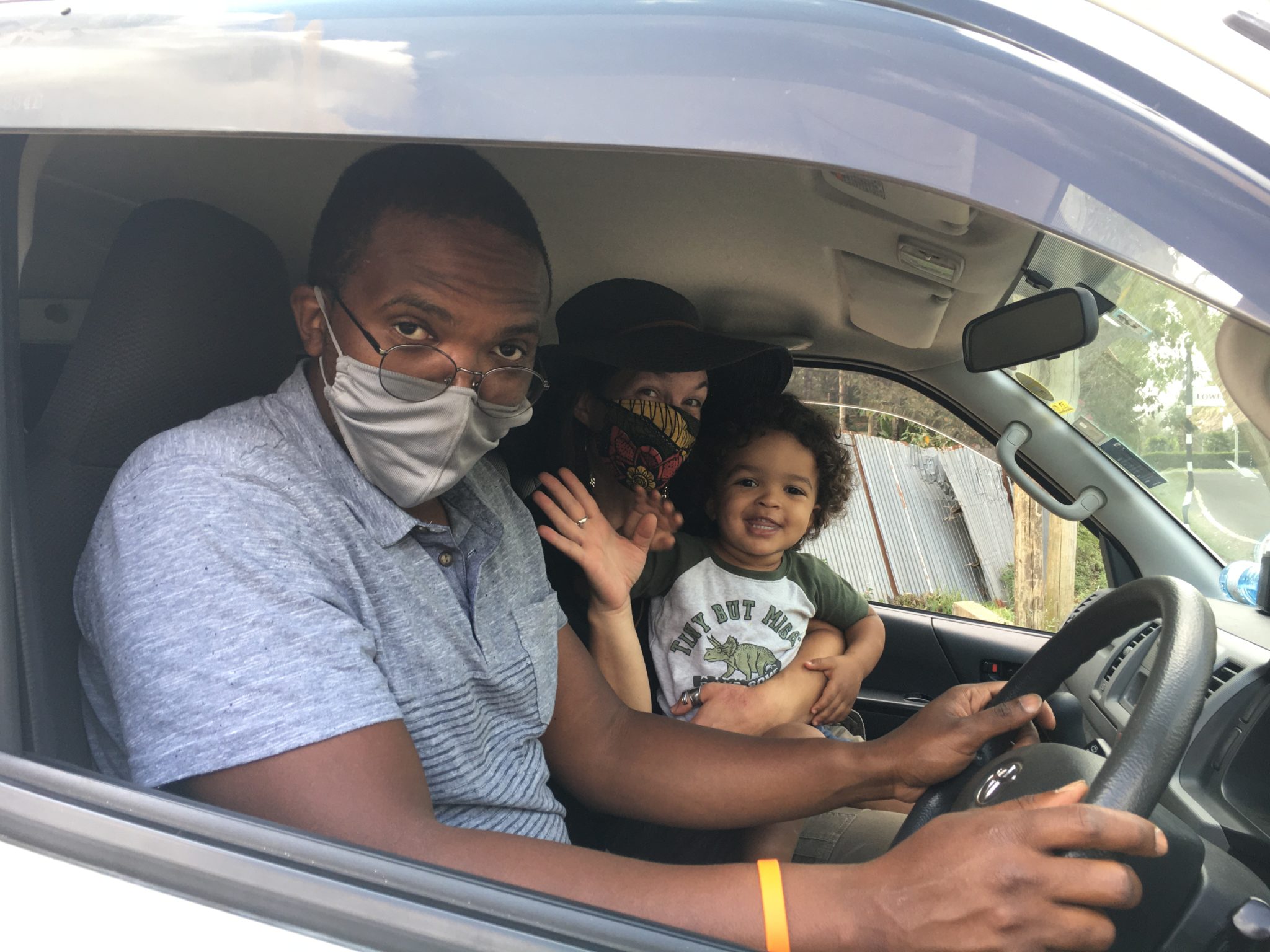 Last week, we picked up 2 young men carrying handmade backpacks. The bags looked extremely heavy, and I insisted that Edwin must pull over, even though they hadn't stopped us. The bags were made with recycled vinyl, like the kind you would find on banners or large signs. My silly Western mind thought maybe they were going camping and carrying a tent. They weren't really going anywhere near where we were headed, but we took them about a mile down the road up to the next road intersection. After they got out, Edwin got really choked up with tears in his eyes. He told me they were selling "utensils" as they say here…plates to be specific. Plates made of hard plastic with colorful designs, just like something you might find at the Dollar Store. The company they were working for was sending them to a town 300 kilometers away, on foot, to sell some plastic plates. They only had 2 bags, so I knew that in reality, the amount of money they were going to make from this job was very small, maybe $20 at most. Edwin asked how they were going to get so far away, and they told him they were just relying on Good Samaritans like us to hitchhike their way there. They jumped out of our car with smiles, and a spring in their step, and told us to "be blessed."
Edwin was fighting to hold back tears, and I knew that meeting these men was a flashback to his past. He had also had a similar job of selling plates many years ago. Mostly this job involved standing in the middle of a busy road and trying to get people stuck in traffic to buy them. There are still some of these plates at Edwin's mom's house, and whenever he sees them, he can only make small mentions of that experience. I can only gather that this "plate selling" period represented a very hard time in his past when he and his mom were really struggling to survive. Plate Seller is not exactly something you dream about being when you grow up; it's the kind of job you take when you're desperate, when there is nothing else.
And seeing this plate selling men in the back of our van just reminded me of how much people are often really struggling here just to scrape by. So many people are just barely making it, and yet there is a joy and resilience within so many. Even when I can see this deep look in people's eyes that signals so much has happened to them, still there is a glimmer of a smile that breaks through. So today, I would encourage you to ask yourself, "where is your joy coming from?" Sometimes I have to fight to ask myself this. My kiddo woke me up at 5 a.m. this morning, and I was pretty agitated. I don't feel a lot of joy about cleaning up his oatmeal that's all over the floor because we don't have a table or a high-chair. But after reflecting on this story again, I can remind myself that my joy doesn't come from circumstances or temporary highs. No, my joy comes from the Lord. James 1:2 tells us "Consider it pure joy, my brothers, whenever you face trials of many kinds because you know that the testing of your faith develops perseverance." The verse says "consider it," which means I have to choose to find joy in my circumstances, even when I don't feel them. There's a lot of toxic things happening out there right now, BUT we can choose joy today. And we can remember that God uses the weak, the outcasts of society, like these plate sellers, to teach us very simple lessons.