It's been great to start off 2018 in Kenya with all of our Grain of Rice team.  I arrived in Kenya on January 2, and quickly jumped into all that is happening.  We began the first day with a New Years party for all of our artisans, children, footballers, and staff who are a daily part of Grain of Rice Project.  Several of our artisans who live upcountry in Meru made the 6 hour trip to Nairobi to be part of this day.  They loved eating pilau with meat and playing some silly games.  The favorite was a carpet scooting relay where they had to sit on a rug and scoot themselves to the finish line.  There were a lot of laughs, and we even managed to get the adults to participate.  One thing I love about Kenya is the way simple things are appreciated.  We played Pictionary and games that involved minimal preparation, and still everyone was gleefully giddy with laughter.  But my most memorable part of the day was when one of our artisans came to collect her monthly wages for the goods she made, and then she called me outside of our gate.  She reached in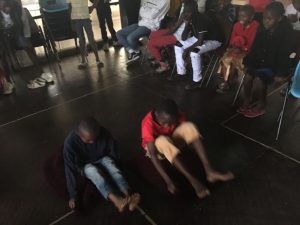 to her fresh stack of shillings and folded a 1000 shilling note (about $10) into my hand.  She said, "I want to give you this, and please don't refuse.  It has been a very good year for me, so I want to give this back to you as a thank you.  Now go buy yourself a soda."  I was quite surprised and touched, but I laughed and told her that was a lot of soda that I could buy!  For me this was a particularly humbling experience to now be on the receiving end, and to know that what she gave me was more than some people spend on food for the entire week.  And yet, I could feel her sense of pride in how happy she was to be able to give back.
The next day kicked into full gear of our usual activities.  The artisans have been coming every weekday and creating more products, including some new items that will be part of our upcoming Spring and Fall lines.  I'm always amazed that I can explain a very loose idea to our team, which I'm just barely able to sketch or sew, and they are able to take these ideas and fully make them come alive.  I'm so grateful for their talent.
The second week here we held a training for our GORP Kids Program teachers.  We were able to get out of Nairobi for 2 days and learn about ways to increase engagement in our children's learning and new techniques for teaching literacy and writing.  We've been working to implement all these new ideas over the last few weeks.  Our teaching team members are like sponges, soaking up every detail and trying hard to give the kids a creative, critical thinking based approach that is completely different from the mainstream schools here.  The kids are overjoyed about all the new notebooks they received for back to school time, and I just can't get over how much they carry back and forth to school.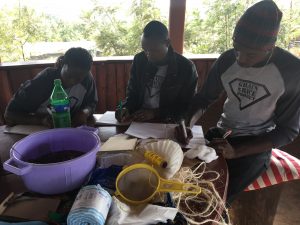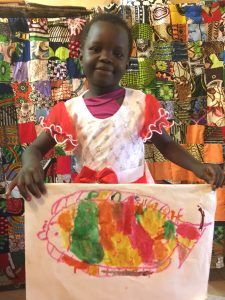 Over the past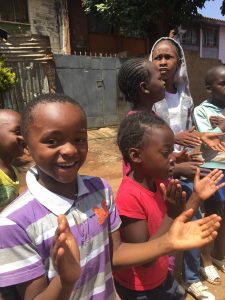 2 weeks we've also launched a new Girls Empowerment Program session for a new group of girls, started a healthy relationship program with our football team, and participated in the first round of the Safaricom Football Tournament.  We've been blessed to have 2 different volunteers, Rene and Rebekah, from the U.S. around at different to offer support to our staff and team as well.  We're grateful for their help with so many administrative tasks and with building relationships with our team.   So far it's been a busy but good start to 2018!