Independence.  Self-reliance.  Individuality.  Personal success.  These are some of the things that our Western, American culture values.  We set out to achieve great things, often for personal gain.  But I would like to offer an alternative idea: the idea of community, the idea of togetherness, the realization that our actions all affect each other.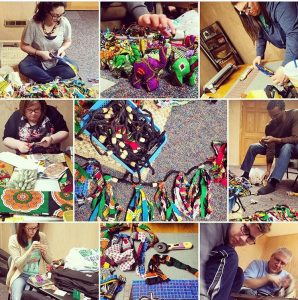 The sense of community is evident in so many ways in Kenyan culture.  Before GORP started, we would meet with a weekly prayer group in Kibera, and the entire house where we met was smaller than my living room.  But still Joyce would cheerfully welcome us into her home and offer up her charcoal stove for boiling the tea.  I think we might have even borrowed mugs to have enough to serve all the people.  And that little tiny room, with it's all its simplicity, was filled with great love and hope and care for each person there.
When we first started our kids program in Kibera, we never had a cooking pot (called a sufaria in Swahili) big enough to prepare all the food we were cooking for the kids program.  And we really didn't have much money either.  So rather than run off to buy one, we always went about asking the neighbors for theirs.  And eventually, someone would find one that was used for the weekly church gatherings that was also just right for feeding all the kids.
During one of the many times of no water in Kibera, neighbors would come to the door pleading for water.  I remember we were also almost completely out, and all I could really come up with was just a small pan full, but the neighbor was so grateful.
Then there was the time that my husband offered to push a man's heavy, heaping wheelbarrow full of sugar cane to up the hill to his home in Meru.  When we arrived, the man insisted that we sit and talk with him and enjoy some of the sugar cane.  I sat there hastily chewing away on the woody substance while my husband and the man chatted away in their mother tongue language.  And just when I thought I was making good headway at finishing and being polite, they insisted that since I liked it so much, I must eat more.
There are so many countless strangers that have welcomed me into their home in Kenya.  I have eaten their last biscuits, their last pieces of bread, their last cups of tea, their sodas that they themselves can often not afford.   And when I think about the sense of community that is built there, I am convicted to ask myself how I live.  Because it is very easy to shy away from what we know.  People who haven't known me have opened their hearts and homes to me.
Yesterday we hosted a GORP volunteer day at my house.  I was so grateful for the ten of us that sat there ironing, tagging, sewing, and cutting fabric all afternoon.  It was humble work...simple...nothing fancy.  But that is what is so important--that we are each willing to do our small part.  And then today, a wonderful friend sat and vision planned with me, prayed with me, and coached me through ideas of of how to let people also write their own stories of their part in Grain of Rice.  I'm still learning.  I'm not good at asking for help.  Sometimes I am drowning in my own uncertainty of what to do next.  But the beautiful thing is that God calls us to community to support each other, even in our messiness.  Thanks for being part of our GORP community.  What is the part that you are doing to tip the scale for others?