I love iMessaging—it makes the world smaller and easily allows our team in Kenya to send me pictures when I'm not there.  It keeps us connected.  Usually the pictures I get are the happy type: smiling kids, videos of them reciting poetry, and beautiful photos of their artwork.
But the ones I received this week brought tears to my eyes.
It was meant to be positive, but really it was just a reminder to me of why we are serving in Kenya.  Here are the photos: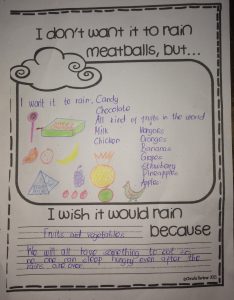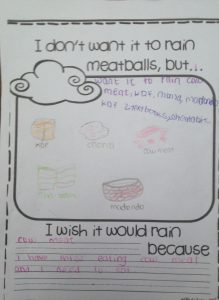 If you can't read them well, here's what they say:
I wish it would rain fruits and vegetables because we will all have something to eat so no one can sleep hungry, even after the rains are over.
I wish it would rain cow meat because I have missed eating cow meat and I need to eat.
What I thought would be just a fun writing activity to go along with our Cloudy With a Chance of Meatballs story, was more of a cultural insensitivity on my part.   What would kids who often didn't know where their next meal was coming from think about a book where it rains food for days?  The answer is that they wouldn't know what to think.  The children we love on are living in a slum environment where fridges are only found at the local shops and they're filled with coveted Coca-Colas that they can never have except for special occasions.  There are no cupboards full of food in Kibera or leftovers being thrown out a few days later.  The main staple is ugali (corn meal with water) and kale—the ugali fills you up, and the kale is the cheapest, healthy vegetable around.  Fruits are a delicacy, only eaten when there's a bit of extra money.  And meat is a rarity that shows up mostly on holidays or maybe once a week if your family is better off.
No, this isn't how it is in all of Kenya.  You can turn the corner from the slum and arrive at big houses and embassies, with gardens and maids, and kids with full bellies.  But this is the reality for hundreds of thousands of people living in the Kenyan slums, and this is the reality across much of the world.
You see, it is so easy to forget, so easy for me to slip back into that comfortable American life. 
But I am convinced that God allows me to keep being reminded of these realities over and over again and to break my heart for those that go without.  This is why we're working with mamas and papas who are churning out beautiful fair trade pieces every week.  This is why we're sending kiddos to school and mentoring kids through soccer—because we yearn for people to be empowered towards a better life.  It's not about handouts; it's not about feeling sorry for people; it's not about making them into a "project."
It is about looking deep within yourself and saying I don't want someone else to go hungry when I have a fridge that's full.  It's about realizing that the opportunities you had growing up—an elementary and high school education, a bus to pick you up on the way to school, a mom or dad or aunt or uncle to read to you at night, a public library, a car to get you to the grocery store…these are not opportunities that everyone around the world has.
Friends, I invite you to join with me in the wrestling.  What breaks your heart?  What makes you uncomfortable? 
Here's some ways you can join us in changing the reality:
Pray.  Ask God to show you how you can give back to your community and your world.
Volunteer.  Request to help Grain of Rice Project through your talents.  Or get involved in the many great organizations locally and abroad.
Shop our Online Store for great products made by our artisans in Kenya.
Become a monthly giver to Grain of Rice Project to help support our GORP Kids Program, Girls Empowerment Program, and GORP Football team.  Just $20 a month will provide weekly food for the kids during the times we meet.  $200 a month will provide a teacher's salary.